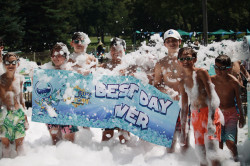 Foam Party
$350 for 1 hours
Size: 44in x 15in x 15in
📝 DESCRIPTION: Looking for a unique and exciting party rental? Look no further than the Incredible Foam Party! This high-output machine creates a sea of fluffy foam that will keep guests entertained for hours. The foam is safe, non-toxic, and easy to clean up, making it a great option for both indoor and outdoor events. The machine is easy to operate and will be setup on site so that everything runs smoothly. Whether you're hosting a foam party, a foam dance party, or a foam-filled concert, our foam machine rental will make your event unforgettable. Foam can be dyed blue or pink for gender reveal Parties. Glow foam, red, blue and green foam coloring is also available during checkout at an additional cost.
Visit www.foamfunfactory.com to take a look at all the packages available.
🌧 RAIN POLICY: You can reschedule your rental due to rain at no extra cost as long as its before the driver arrival. Upon arrival the payment is non-refundable and cannot be reschedule. If the party cannot be rescheduled and would like to cancel, a refund can be issued with 3% less the amount to cover the processing fee.
🚚 DELIVERY: We deliver to Canton and surrounding areas (delivery fees calculated at checkout). Use the "Check Delivery" button to see if we service your area.
👧🏽👦🏽OCCUPANCY: Up to 30 people at one time.
⏰ RENTAL TIMEFRAME: Normally foam parites last for 1 hour. Add package to the cart to see if your time is available.
🧽 CLEANING: All units are cleaned and sanitized before use.
📦 FOAM PARTY PACKAGES:
Backyard Package - This package is designed for home/backyard parties with up to 25 kids at one time.

Community Package - Bigger groups require more foam and that's our speciality! Great for Schools, Summer Camps, Libraries, and Community Events.

Glow Package - A glow in the dark foam party is a fun and exciting event that combines music, dancing, and foam to create a unique party experience.

Daycare Package - A daycare foam party is a fun and engaging activity designed for young children to enjoy at their daycare or preschool.

Doggy Package - A dog foam party is a fun and interactive event designed for dogs and their owners to enjoy together.

👉🏽 WHAT YOU'LL NEED:

Adult Supervision for events with children

Area at least 20x20 ft on Grass or Pavement that is free of obstructions and holes

Water Source within 50 feet of setup area

Electric outlet within 50 feet of setup area

🔌 WHAT'S INCLUDED:

Foam Cannon, accessories (50ft water hose, 50ft extension code) and Foam Solution

A trained professional will arrive 20 to 30 before the event to setup. They will operate equipment throughout the event and tear down after the event.

Kid Friendly music so everyone including the adult can dance to.

Beach ball that kids will have a blast playing with inside the foam area. The Beach ball is for you to keep!

Click here to TEXT US
You might also be interested in:
Some items are not available for the selected delivery method.
Subtotal (estimate):
Enter Address Information (edit)

Locate
If you are taking measurements for a structure such as a building or fence, please provide the height of the structure here. If height does not apply to the wash, for instance for a gutter wash, leave this field empty. Please note if you enter a value here after taking measurements, you will need to take measurements again.