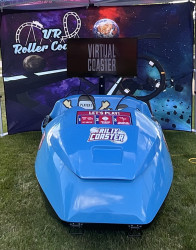 Rilix VR Roller Coaster & Traveling Case
The Rilix Coaster provides an incredible experience for all ages to enjoy, but we had more than a ride in mind when we created it. The Rilix Coaster is ultimately about providing a profitable business opportunity for nearly anyone.
The Rilix Coaster is a complete virtual reality roller coaster simulator. We have combined exclusive software and hardware systems to create a 100% immersive experience. With amazing visual scenarios, vibration and wind systems, the Rilix Coaster will take you on a thrill ride adventure!
- Vibration System - The Rilix coaster is designed with advanced vibration capabilities offering safe, low power, immersive ride effects.
- Wind Effects - The variable-speed wind system is matched perfectly to each ride scenario bringing exceptional realism to the experience.
- Stunning Scenery, Adventures, escapes, and edge-of-your-coaster-seat thrills await in each exciting and beautifully crafted ride scenario.
Easy to Set up and transport.
You might also be interested in:
Some items are not available for the selected delivery method.
Subtotal (estimate):
Enter Address Information (edit)

Locate
If you are taking measurements for a structure such as a building or fence, please provide the height of the structure here. If height does not apply to the wash, for instance for a gutter wash, leave this field empty. Please note if you enter a value here after taking measurements, you will need to take measurements again.