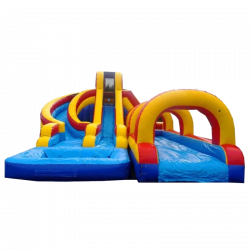 Helix 18ft Wet Slide
For Sale: 1500 OBO
Size: 30'L x 22'W x 18'H
Space Required: 35'L x 26'W X 21'H
🚨 DESCRIPTION: Introducing the Helix Wet Slide: The Ultimate Aquatic Adventure!
Get ready to take your summer fun to the next level with the Helix Wet Slide. Designed to bring excitement and exhilaration to any outdoor event, this slide guarantees a splashing good time for kids and adults alike. Whether you're hosting a backyard party, a community gathering, or a corporate picnic, the Helix Wet Slide is the perfect addition to make a big splash!
🎉 FEATURES:
1. Thrilling Helix Design: The Helix Wet Slide stands out with its innovative helical design, featuring twists and turns that will keep sliders engaged and excited from start to finish. Experience the rush of spiraling down through the twists, giving you a unique sliding experience that's sure to be a hit.
2. Cool Water Splash: Beat the heat and stay refreshed as you glide down the Helix Wet Slide. The integrated water spray system ensures a continuous flow of water down the slide, creating a slippery surface for an ultra-smooth and fast ride. The landing pool at the bottom provides a satisfying splash, making every slide a memorable adventure.
3. Safe and Durable: Safety is our top priority. The Helix Wet Slide is constructed using high-quality, durable materials to withstand hours of sliding fun. The non-slip steps and safety handles ensure a secure climbing experience, while the soft and comfortable landing pool guarantees a gentle landing every time.
4. Versatile Entertainment: The Helix Wet Slide is suitable for a wide range of events, from birthday parties and family gatherings to community fairs and summer camps. Its vibrant colors and eye-catching design add a festive touch to any setting, creating an atmosphere of excitement and joy.
5. Dimensions and Accessibility: The Helix Wet Slide is designed with optimal dimensions to accommodate sliders of various ages and sizes. The wide slide lanes and gentle curves make it accessible and enjoyable for both kids and adults, encouraging friendly competitions and shared laughter.
Bring the thrill of a water park right to your own backyard or event space with the Helix Wet Slide. Don't miss out on the opportunity to create lasting memories and unforgettable moments with this exciting addition to your summer activities. Get ready to slide, splash, and smile your way through the best summer yet!
👧🏽👦🏽 OCCUPANCY: 1 person at a time for slides.
👉🏽 WHAT YOU'LL NEED:
Enough space for the unit to be placed

Blower and stakes

Water Hose
🔌 WHAT'S INCLUDED:
Item Dimensions:
30'L x 22'W x 15'H
Space Needed:
35'L x 26'W x 18'H
You might also be interested in:
Some items are not available for the selected delivery method.
Subtotal (estimate):
Enter Address Information (edit)

Locate
If you are taking measurements for a structure such as a building or fence, please provide the height of the structure here. If height does not apply to the wash, for instance for a gutter wash, leave this field empty. Please note if you enter a value here after taking measurements, you will need to take measurements again.